£

750.00
Large Stanley Donwood's Fleet Street Apocalypse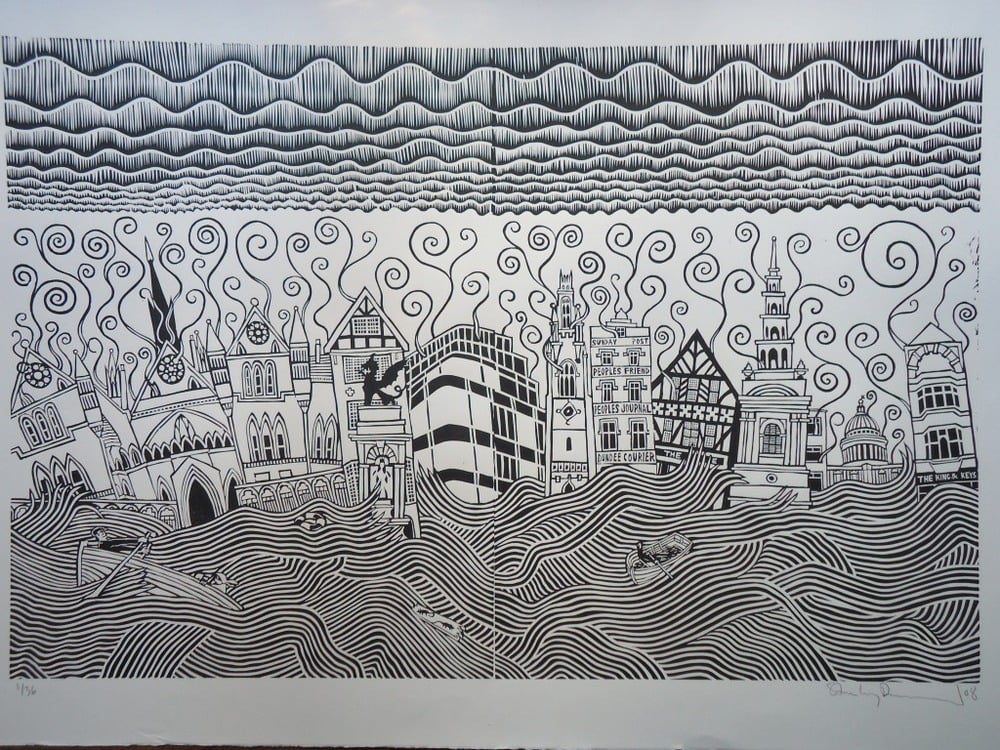 A large Stanley Donwood's print Fleet Street Apocalypse.
The full-size Fleet Street Apocalypse The print area - 25" x 38" (640mm x 970mm approx), and paper size - 30" x 44" (760mm x 1120mm approx). 97 x 64 cm linocut, portraying the Royal Courts of Justice, the Cock Tavern, the Fleet Street dragon, the Daily Express building, St Dunstan's church, the Dundee Courier building (site of Sweeny Todd's barbers shop) the George Tavern, St Bride's church, a distant St Paul's cathedral and the now-defunct King and Keys pub; all are in extravagant flames whilst a few desperate survivors attempt to escape a terrible flood that is sweeping along the street.
The Fleet Street Apocalypse linocut is a companion piece of the London Views linocut which was previously used as the artwork for Thom Yorke's solo album The Eraser.
'Like my earlier London Views series, this picture is ultimately, if loosely, inspired by the 1493 book the Liber Chronaricum, also known as the Nuremburg Chronicle; although the style of the woodcuts in that book has been twisted almost out of recognition.' Stanley Donwood
The linocut was created specifically to be printed at St Bride Foundation, based on the photographs and observational drawings of Fleet Street. The prints were made on possibly the last remaining press in Fleet Street, a cast-iron Albion printing press from 1844 from the St Bride's collection.
Stanley Donwood has donated and signed this edition (one of 36 original full-size) print to the St Bride Foundation; all proceeds taken from sales through the St Bride Library will go to support its work and maintain its collections. Please contact the Library for further details.